Graphic Design Festival Scotland's International Poster Competition welcomes posters submissions from established agencies and budding designers alike from all corners of the earth.
Each year a new jury is invited to review and critique the submissions. A selection of the submissions which are highly rated are then curated for exhibition and publishing in the accompanying International Poster Book.
All posters are considered however the jury keep a particular eye open for posters which alter perceptions or ways of thinking, offer creative solutions to problems, contribute to current affairs, open dialogues for debate, provoke discussions and make innovative use of media or medium.
The 2019 competition received 8,567 submissions from 86 countries and since launching in 2014 has now received more than 38,000 from over 100+ countries. 152 submissions made up of 192 posters designed by 257 were selected for exhibition and publishing in the book.
This year's jury included The Rodina from the Czech Republic, Spassky Fischer from France and Warriors Studio from the United Kingdom.
You can visit the International Poster Exhibition at an all-new space dedicated to graphic design – Olympia Gallery – where the exhibition opened on November 22nd 2019. Discover the new space at olympiagallery.org
Discover all 252 posters selected inside the International Poster Book. The book is full of c0ver-to-cover inspiration with work by 252 designers, exclusive interviews with those selected for exhibition and comments from all of the jury members. Limited edition of 1,000 copies available. Make sure you grab your copy right here: gdfs.uk/2019/shop
We hope you enjoy exploring this year's selections, discovering new designers and opening your mind to what's possible and happening within the world of contemporary graphic design.
The jury are pleased to share with you the winners of Graphic Design Festival Scotland's 2019 International Poster Competition.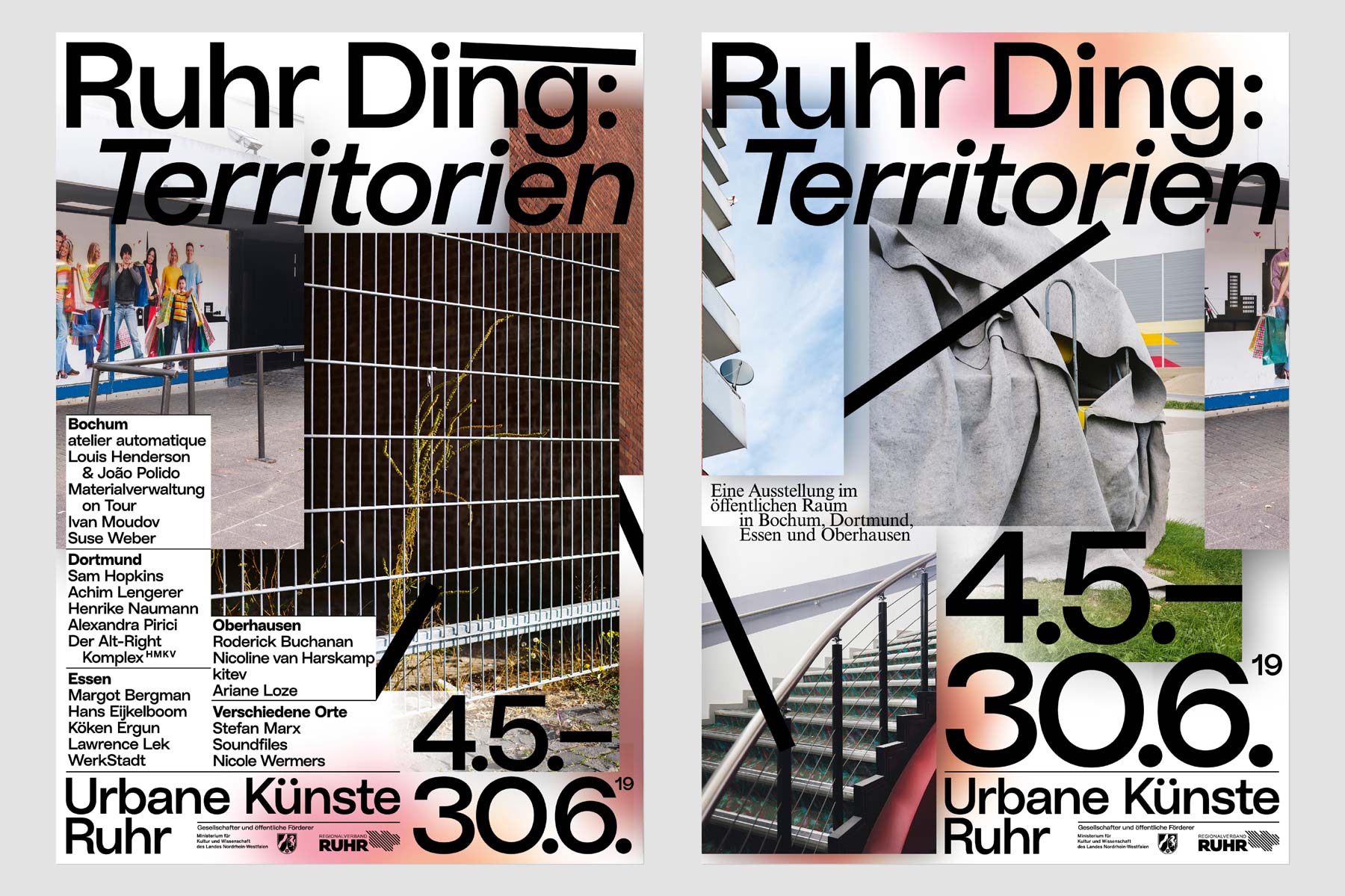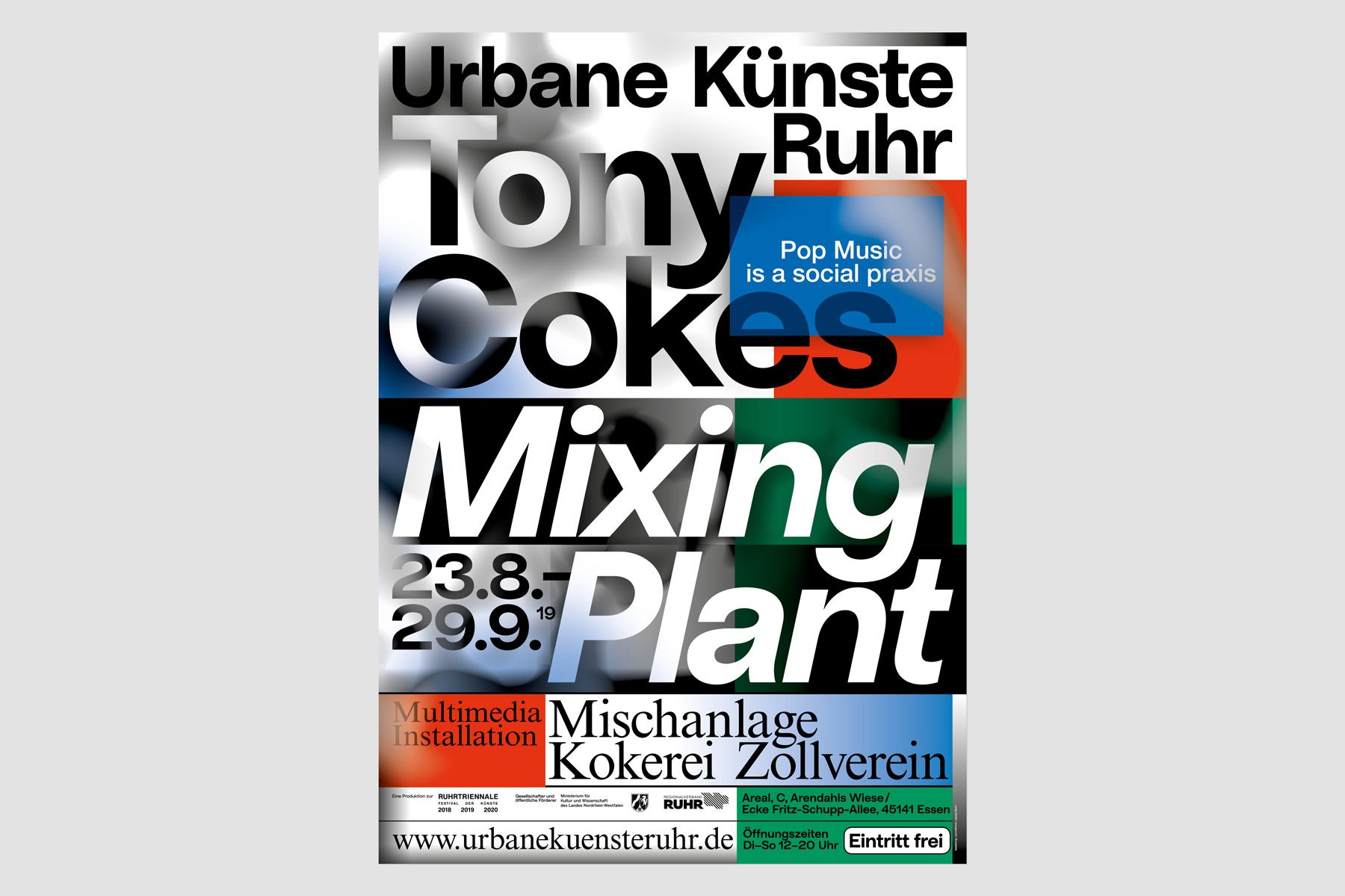 Lamm & Kirch's Ruhr Ding: Territorien and Tony Cokes – Mixing Plant were awarded 3rd place by the jury.
The posters were commissioned by Urbane Kuenst Ruhr, an institution for contemporary art, to promote two exhibitions. One titled Territories which explores territorial definitions and the territorial aspects of establishing an identity. The other, an exhibition of artist Tony Cokes' work which "reflects on capitalism, subjective perceptions, knowledge transfer and (visual) stimuli". The posters are designed within a wider identity as part of Lamm & Kirch's on-going work with the institution.
Aiming to reflect the "unstable" identity of the institution which operates in the "decentralised" post-industrial area of Ruhr in West Germany, Lamm & Kirch utilise "a tool kit" of "variable components"; photography, abstract imagery, artist material, formless shapes, graphic symbols and a custom variable font built with Dinamo Typefaces. The elements come together in seemingly haphazard compositions; images layer over each other, lines and shapes intersect and information appears sporadically dotted around in perceptively chaotic compositions.
The bold factual typography combined with soft, fading colours and blended imagery melts together a unique fusion of industrial communication and creative expression.
Jury's discussion summarised: The posters are successful on many levels; effective as stand alone pieces of work, perform seamlessly as part of a wider identity, visually exciting at first glance with various levels of interest up to small details within the typography, an exciting variety of visual elements, all of the elements connect and disconnect with one another in an interesting way, the posters strongly reflect the concept and approach of the institution, exceptionally high quality of finish, typography is solid and the aesthetic is original.
You can read the complete comments from each individual jury member in the International Poster Book.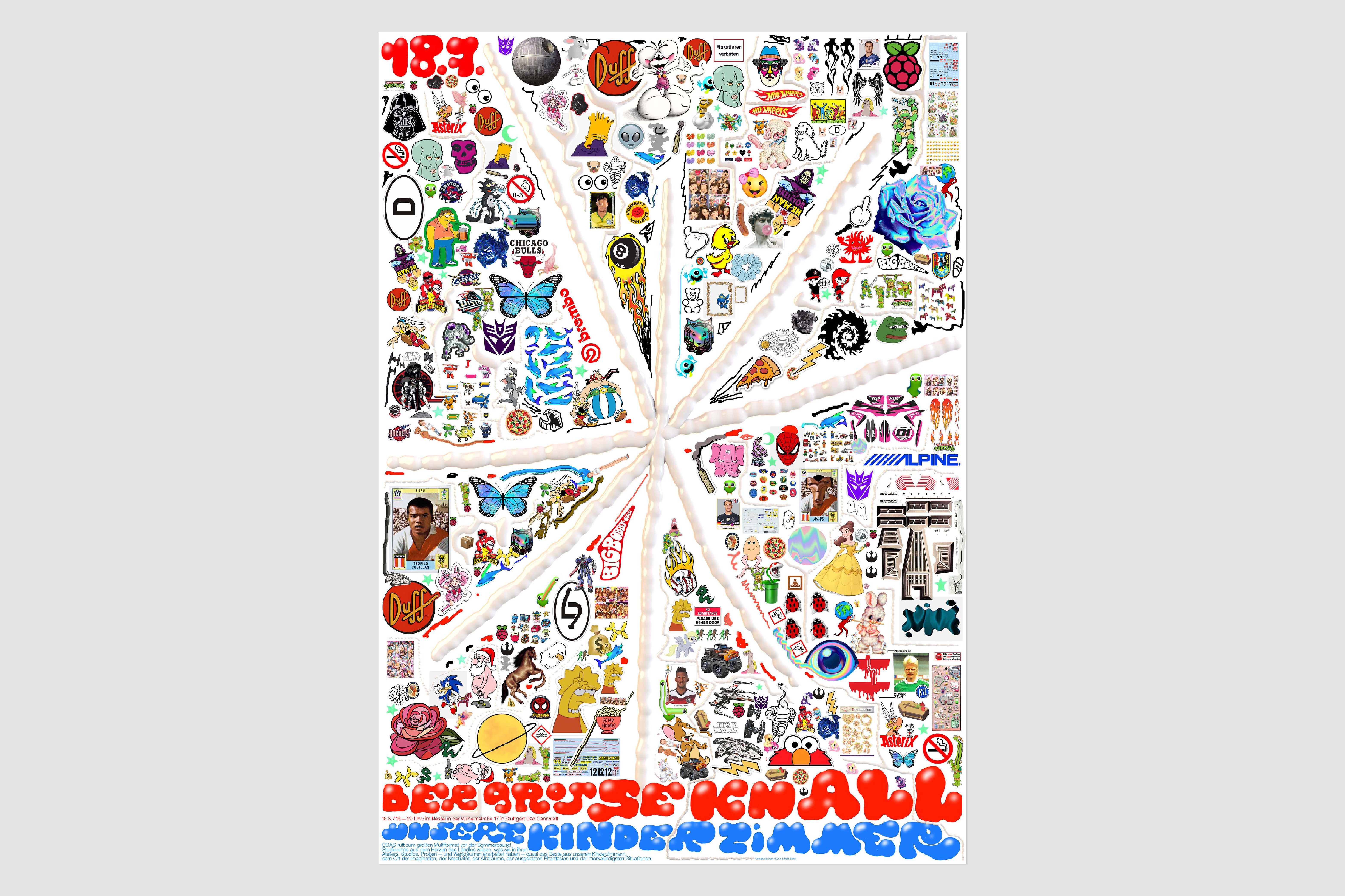 Mark Bohle and Nam Huynh's The Big Bang was awarded 2nd place by the jury.
The poster was commissioned by community-focused student space ODAS to promote a doors-open day which offered the opportunity to visit the private studios of various creatives.
Through the poster, creative spaces were compared to children's bedrooms, places "of imagination and pure freedom". Continuing the idea of child-like imagination, inspiration was drawn from a Joan Miro illustration for the central motif – a star. The area around the star is embellished with a scattering of pop-culture icons, characters and symbols – comparable to children plastering stickers all over belongings as a way of personalising or customising.
Custom 3D typography is paired with a geometric sans at the bottom of the poster to communicate the title and event information.
Jury's discussion summarised:
The poster is instantly memorable; strange, playful and engaging. The concept comparing the children's bedrooms to creative studios is original and communicated in a fascinating way. The "stickers", Joan Miro inspired 3D-rendered toothpaste, thick blobby custom lettering and light grotesk geometric typeface at the bottom are an unforgettable combination
of elements and assembled together in a tactile, unexpected way. The poster is highly contemporary but well grounded and formed. Very enjoyable to look at.
You can read the complete comments from each individual jury member in the International Poster Book.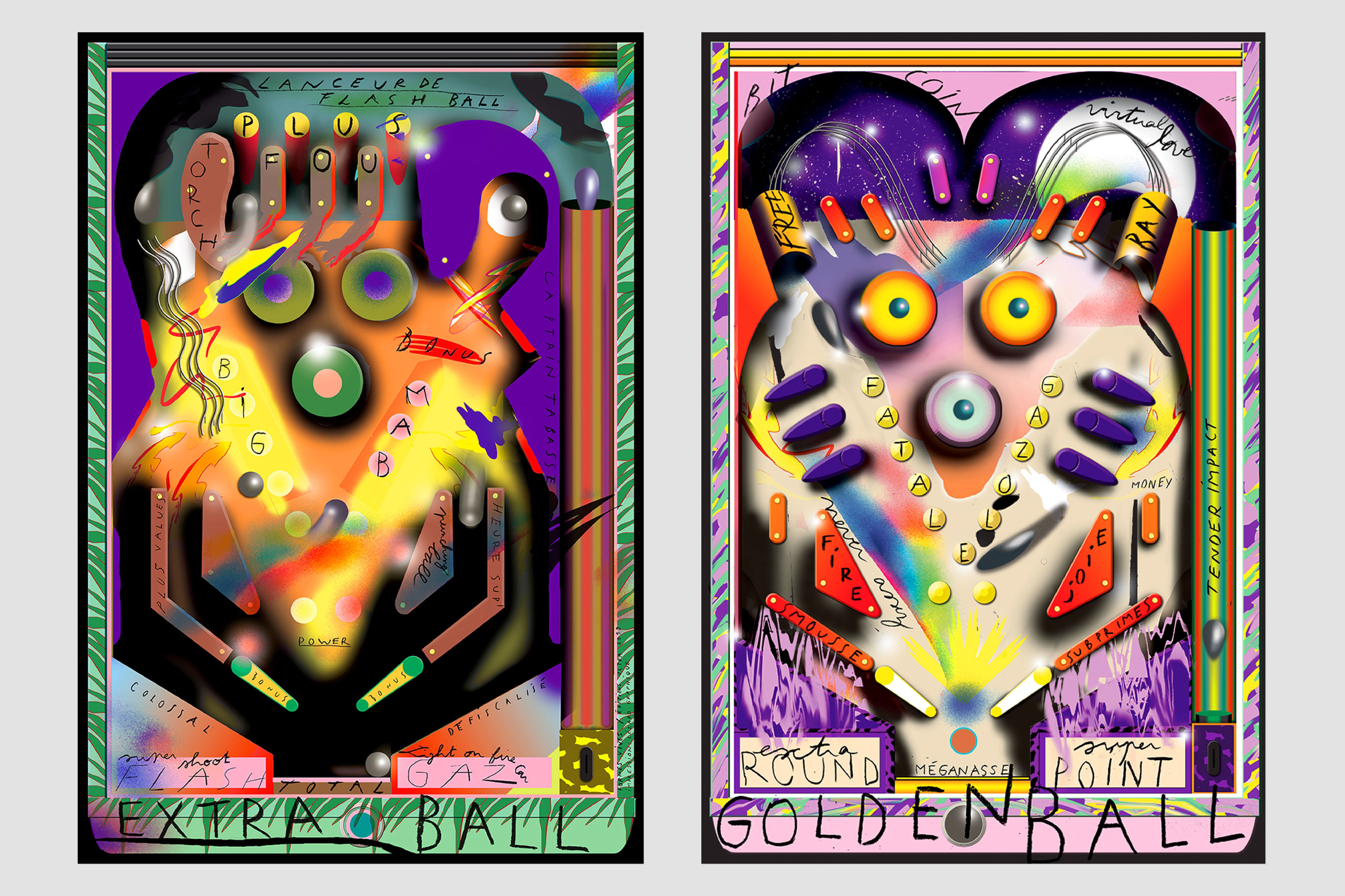 Congratulations to Formes Vives! Their posters Extra Ball and Golden Ball are awarded 1st place by the jury.
The posters were commissioned by art/craft/DIY design publisher Ultra for public display next to their offices in Brittany, France and Formes Vives were offered complete creative control.
Formes Vives aimed to "support" the Gilet Jaune, a populist, political movement for economic justice started in France during 2018, and "talk about police repression". An illustrated pinball machine is combined with typographic cues relating to the "Gilet Jaune" in a tactile frenzy of colours, lines and forms. Some of the scrawled cues on the posters include "gasoline", "fire", "capital gains", "tax-free", "power" and "play". The posters do not explicitly comment but perhaps compare the actions between the Gilet Jaune and the police on the streets of Paris to a game of fatal pinball.
The posters were creating using hand-drawn illustrations, layered digital collage and printed digitally before being displayed publicly in Brittany.
Jury's discussion summarised: Posters which engage with current affairs or on-going global topics are important, particularly within graphic design where designers have such a strong position to communicate ideas and educate those around them.
The posters are totally original, visually engaging, spark curiosity and contribute to on-going political discussion.
Formes Vives approach feels human, organic and personal which implies a level of authenticity and expressive emotion which strengthens the message and the connection between the poster and the subject.
Posters do not always have to be direct or immediate. A successful poster may not be straight forward and could be open to interpretation. This may be atypical of how we expect "good" design to behave but hopefully through the competition we can open up new ways of thinking and demonstrate that immediacy and directness are not always an indicator of quality.
The posters hit the sweet spot in many ways: they contribute to on-gong political discussions, are visually striking, the use of colours and forms in the composition is strong, the tactility of the work is quite unique. The approach of Formes Vives is inimitable with real emotion and craft. The posters demonstrate that the artistic aspect and the craft of poster design is alive and well.
You can read the complete comments from each individual jury member in the International Poster Book.