Guidelines
The brief is open. Submissions may be created specifically for the competition,
for a client or as self-promotion. A maximum of 3 posters may
be entered per participant. The competition is open to both students
and professionals. The posters will be judged on their content, concept,
and delivery, and value will be placed on design work which:
- Alters perceptions or ways of thinking
- Offers creative solutions to problems
- Contributes to discussion on current affairs
- Opens dialogue and provokes discussion for debate
2014 Exhibition
The following names have been shortlisted for Graphic Design Festival
Scotland's International Poster Competition 2014 and will be exhibited at
In Public Gallery, 21 Stockwell Street, Glasgow G1 9SS from 24th-27th
October 2014. The exhibition features a showcase and celebration
of poster design from across the world.
The competition was judged by: Felix Pfaffli, Warriors Studio,
Espace My Monkey/Morgan Fortems and Pierre Vanni.
Denis Yılmaz
Jan Rappel
Edmond Lai
Fabian Krauss
Timm Henger
Sarah Baumann
Steffen Knöll
Elke Scholiers & Christophe Clarijs
Xiao Yadan
Anatolii Grashchenko
My Name is Wendy
Felix Bareis
Spector Bureau
Zed Cheng
Annina Sudeck
Sven Lindhorst-Emme
Xi Luo
Nassim Bouaza
Andreas Golde
João Araújo & Rita Huet - And Atelier
Peter Bankov
Timofei Dekalo
Yao-De Jheng
Studio Panorama
Dries Deriemaeker
Lauren Law
Atelier-Mit-Meerblick
Matthieu Salvaggio
Sascha Krischock
Karolina Pietrzyk
Al White
Seungtae Kim
Studio Jimbo
Christian Pardini
Parallèle graphique
Ilya Bryabrin
Mark Bohle
This Is a Secret Group
Corbin Mahieu
Joanna Gniady
Amir Jamshidi
Benoît Bodhuin
Mathieu Cieters
Felix Kosok
Ge Baoyu
Callum Copley
Rrezeart Galica
Valeriy Kozhanov
Tereza Rullerová, Vít Ruller - The Rodina
Daniel Crofts
Anastassia Sharõmova
Benedikt Luft
Aniello Frasca
Christophe Gaudard
2014 Winners
1st Place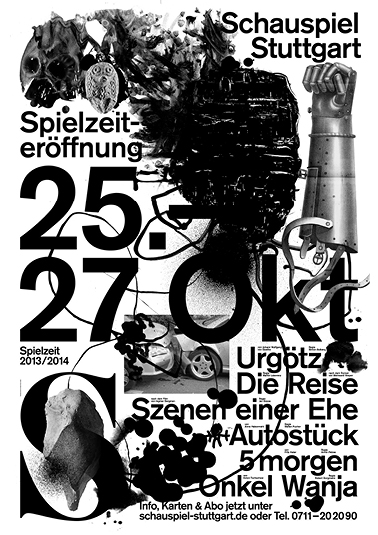 Title: Schauspiel Stuttgart
By: Spector Bureau
Country: Germany


The poster is part of the initiating campaign and the new graphic appearance of the direction for Armin Petras at the Schauspiel Stuttgart, state theater Baden-Württemberg (www.schauspiel-stuttgart.de).
One theme named by the team of Armin Petras was: searching for clues – to get an awareness for the city, the place and its conditions, history and conflicts, to be able as a theater to make those things be readable today.
Another: The maximum of the historic, the maximum of the modern – the theater space seen in the far history as a cave. Lascaux and Chauvet, caves with wall paintings, which are said to be part of the first dance rituals. A cut and paste of epochs, the collage of the stone age, a digital presence produces a side by side of time, stretching to become what could be meant by as modern.
2nd Place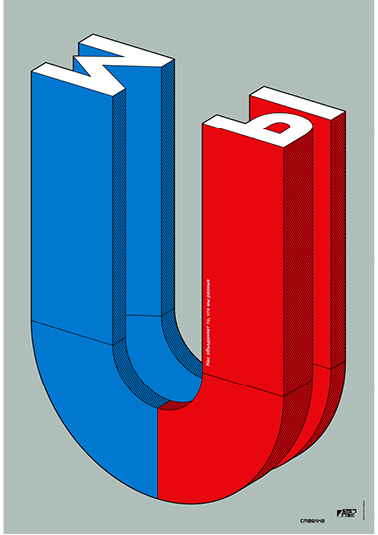 Title: WE. Differences Unite Us.
By: Ilya Bryabrin
Country: Russia


Two letters on the top of the magnet form the word 'WE' (in Russian). The magnet is a metaphor of the polarity and unity of human views and actions that are the result of any kinds of oppositions: 'male-female', 'good-bad', 'active-passive'.
Duality of perception is the source of forces of attraction and repulsion that are necessary for the balance in the social relations. Oneness reveals itself through polarity.
3rd Place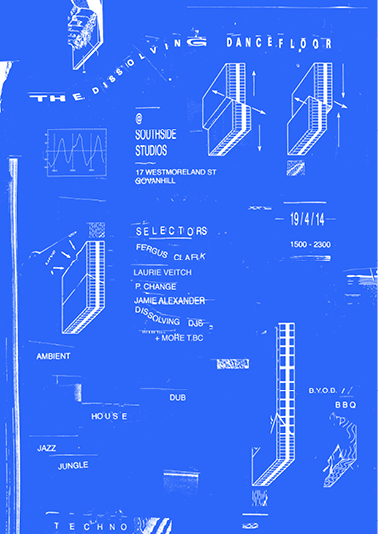 Title: South
By: Al White
Country: Scotland


"I made this poster to promote a small daytime event that I was organising with a few friends. It was a low key party with local DJ's playing a range of music in an artist studio complex. As I had complete creative control it gave me the opportunity to experiment, and I ended up doing most of the work by hand then scanning the results in with a minimal amount of digital editing. I collaged photocopies from a geography textbook to form the basis of the design then worked the type around the imagery."
I used diagrams of shifting landscapes to form a loose connection with the name and concept of our on going project, The Dissolving Dancefloor.
Gallery
The following 80 posters were shortlisted for exhibition at Graphic Design Festival Scotland's 2014 International Poster Exhibition.
The exhibition opening acted as the launch party of the festival
and was open to the public from 24th-27th October 2014.
*There are a small number of posters which were not included in the physical exhibition
as they were not received on time or did not comply with the sizing guidelines.
We thank everyone who contributed to the competition
and congratulations to the shortlisted and winners!